Alexander Yellen grew up outside of Boston, MA. He started studying piano at a very young age and loved every second of it.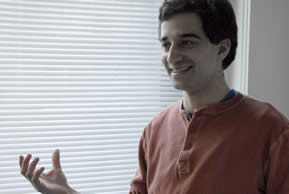 When deciding that he wanted to change his musical route and go towards the jazz world, he began studying with David Zoffer at New England Conservatory's preparatory school.

His educational life has continued as a student at The New School for Jazz and Contemporary Music in New York City where he's studied with such jazz greats as Sy Johnson, Bill Kirchner, Kirk Nurock, Gerry Hemingway, David Schnitter, Francesca Tanksley, and others.

Outside of the music world, Alexander has worked closely with WNYC radio producers Sara Fishko and Sarah Montague.

Alexander writes all his music with a mechanical pencil given to him by Sy Johnson. Sy affectionately refers to the pencil as a "Mingus Pencil" and told Alexander that his success in the music business relied on his use of that pencil.

Alexander holds a BFA in Jazz and a BA in Media Studies, both from The New School, and a JD from Benjamin N. Cardozo School of Law. He is licensed to practice law in the Commonwealth of Massachusetts and in the State of New York. His radio work has been featured on various podcasts and small-market NPR affiliates. His music makes an occasional appearance in small jazz clubs across New York City, as well as while he sings in the shower -- but not loud enough for the neighbors to hear.